A "last call" from a closed restaurant, epic collaborations and your chance at "Summer Like an Italian" in Vancouver
While we may be in the final days of summer 2022, the many exciting culinary specials and celebrations happening in Vancouver are enough to fill our calendars and our bellies.
Here are some notable food pop-ups, collaborations, and events happening in late August and September.
Hawker x Via Tevere Potluck: Khao Soi Pizza Sub
Potluck Hawker Eatery (3424 Cambie St) celebrates its second anniversary with a special creation in collaboration with its friends at Via Tevere. Available for two days only, August 20-21, 2022, the Khao Soi Pizza Sub is inspired by the famous chicken curry noodles of northern Thailand and Myanmar and reimagined as a fried chicken sub with the batter over the signature wood fire of Via Tevere. Customers can now pre-order the Khao Soi Pizza Sub Set ($23) online. The full meal includes the Khao Soi Pizza Sub, Potluck's limited-time Malaysian Parmesan Truffle Fries, and a seasonal summer slushie.
Picnic + Bubbles
Put some sparkle into your late summer fun while supporting a worthy cause via a new fundraising event called Picnic + Bubbles. Hosted by the British Columbia chapter of culinary group Les Dames d'Escoffier and taking place on Sunday, August 21, the inaugural ticketed event is a choose-your-own-adventure-style experience: you choose the restaurant and its menu of dishes paired with a bottle of sparkling wine and head to the picnic destination of your choice.
For $150, you'll receive a multi-course picnic for two with a bottle of specially chosen bubbles that pairs perfectly with your meal. Picnic + Bubbles isn't just a way to get a great food and wine pairing to enjoy outdoors, it's also a fundraiser: 50% of proceeds will go to Food Banks BC. Picnic basket pick-up times are from 3:00 p.m. to 5:00 p.m. (a time must be selected for your tickets). Buy your picnics online.
Mochido x Boba Run
Mochi donut biz Mochido is launching a special special edition featuring three unique donut flavors and two drinks made in collaboration with Boba Run, a local boba tea shop in Vancouver. Available only for two weeks from August 24, the donuts are Turtle Chip (inspired by the Korean corn chip snack), Choco pong (made with Korean wheat puffed cereal, jolly pong) and Injeolmi (inspired by the soybean rice). The drinks are a black sesame latte and Korean mango milk. Pre-orders will be available on the Mochido website starting at noon on August 23, and will also be available for pre-order on the Boba Run website. for pickup on a weekday and a weekend time slot at their store.
Bean
A two-day coffee festival will provide Vancouver with a delicious and informative dose of fun this month. Beanstock takes place August 20 and 21 at the Roundhouse Community Center. It's been a while since Beanstock held an event, due to the pandemic. The throwback event will offer the chance to indulge in unlimited flavors of coffee from Canadian roasters (in your souvenir mug) and watch latte art demonstrations and barista challenges with out-of-this-world skill levels at the Beanstock's flagship Espresso bar. Naturally, since this is a summer event, you can also stop in the cold brew area for refreshing pours.
Beanstock will also offer the opportunity to learn how to up your home coffee brewing game and shop the market with beans from all participating roasters for sale so you can take your festival favorites home to enjoy. at home.
Summer like an Italian: Gastronomic Passport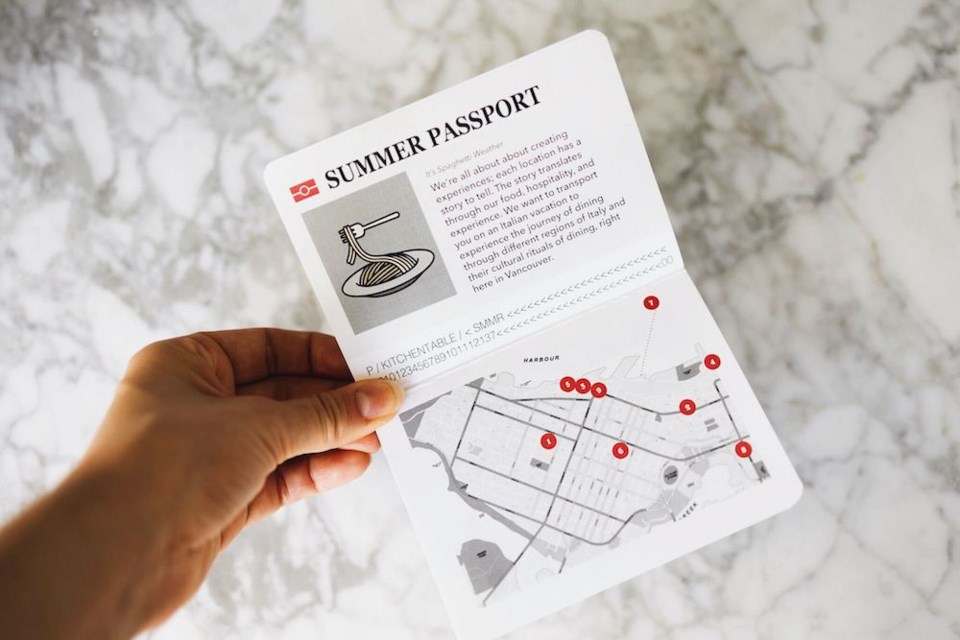 Eight participating Kitchen Table restaurants and caffès (Ask For Luigi, Bacaro, Carlino, Di Beppe, Farina a Legna, Giovane Caffè, Motoretta and Pizzeria Farina) encourage customers to soak up the last weeks of summer and enjoy a dish of regional inspiration that tells the story of each place. For their Summer Like an Italian promotion, guests are encouraged to pick up a passport at participating establishments to use as a guide and collect stamps with each featured dish ordered for a chance to win over $1,000 in prizes. of gift cards.
Participating restaurants and featured menu items are as follows:
Ask Luigi: Bolognese rigatoni*

Bacaro: Spritz + Chips (homemade with crispy herbs)

Carl: Freeco (fried montasio, onion & potato)

Di Beppe: Carbonara* (with guanciale, pecorino, egg yolk & black pepper)

Farina a Legna: Cipolla Pizza (Calabrian onion & chili sauce, zucchini, peppers, marinated fennel)

Giovane Caffè: Espresso Shakerato (shaken espresso on ice)

Motoretta: Gelato or Garnita (flavor of your choice)

Pizzeria Farina: Pizza Finocchiona* (tomato sauce, fennel sausage, provolone, parmesan, bell pepper)
*Vegetarian options available
Rosie's BBQ & Smokehouse: Katsu Sandos Smoked Turkey
Vancouver Rosie's barbecue truck will take you to Japan via Texas with its limited-edition katsu-style smoked turkey sandwich, or sando. This August and through Labor Day, Rosie's will be making a delicious smoked turkey Katsu sandwich inspired by the memorable culinary explorations of chef/owner of the Rolling Smokehouse Karl in Tokyo. Rosie's starts by smoking Rossdown Farms turkey thighs, which are then fried katsu-style and served on a potato bun with Japanese mayonnaise, cabbage and quick Japanese pickles. Here's where you'll find Rosie's in the coming weeks:
August 20-21 – Parkside Brewing, Port Moody
August 22-23 – Batch 44 Brewing, Sechelt
August 27 – Riverside Street Vibe Festival, Vancouver
Aug. 28 – Vancouver Canadiens Tailgate, Vancouver
September 3-4 – Jonathan Rogers Park, Vancouver
The Fair at the PNE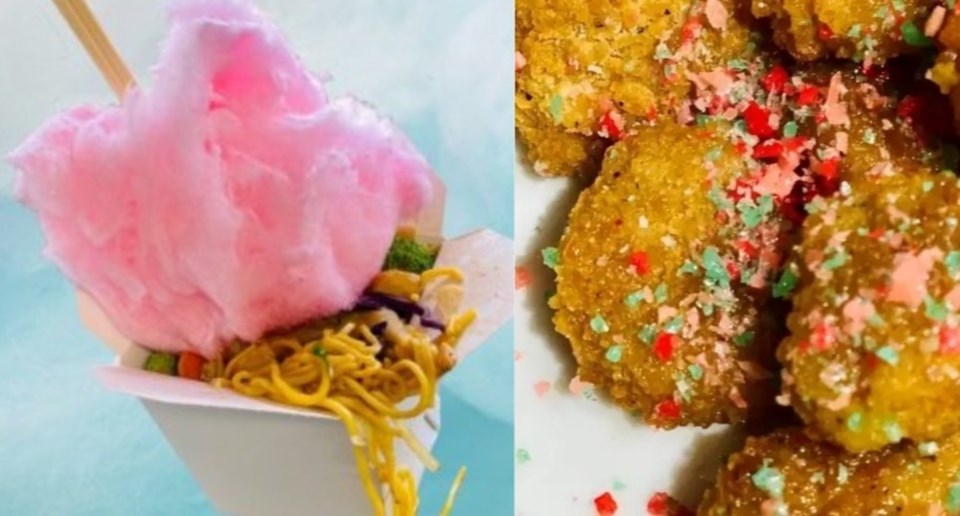 It's that time of year again: the fair at the PNE runs from August 20 to September 5. This year's lineup of food vendors for the annual fair at PNE is full of familiar, fusional, and "what's that?" As far as PNE Fair's traditional staples go, 2022 is on track with its lineup of tornado potatoes, giant hot dogs, scary fries, cotton candy, pretzels, corn dogs , funnel cakes, burgers, ice cream, lemonade and slushies There are more than 65 vendors on display for the 2022 fair at PNE, and every year they try to outdo each other over the years previous ones by offering dishes inspired by global food trends that will tempt your taste buds and fuel your Instagram feed. Here's a look at some of the craziest items they're cooking up this time around, like Pop Rocks Popcorn Chicken and Cotton Candy Noodles.
Free coffee from Honolulu Coffee
Good news: Honolulu Coffee is preparing a third Vancouver location in the Olympic Village. Although the new Honolulu Coffee won't open until this fall, that won't stop the business from a little early celebration. All guests of Honolulu Coffee's two existing locations in Vancouver can receive free Kona drip coffee on Monday, August 22 and Tuesday, August 23 at Honolulu Coffee Downtown (888 Nelson St.) and Kerrisdale (2098 W 41st Ave.).
The Farina pizzeria celebrates its 11th anniversary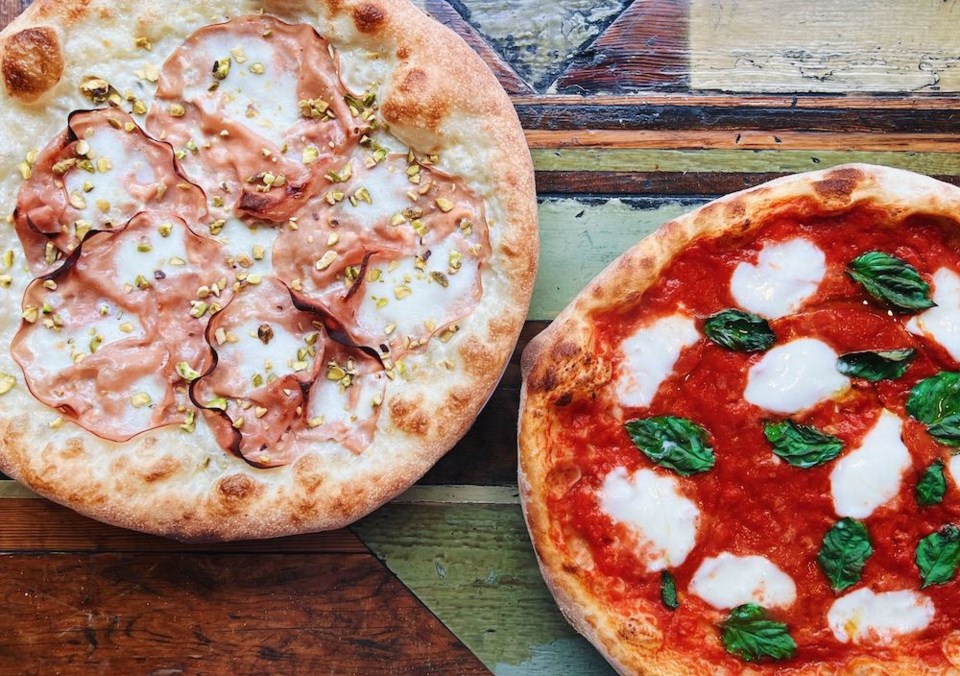 It's party time at Pizzeria Farina, and the iconic restaurant at 915 Main St (which got a reprieve from closing earlier this year, phew!) will be offering two pizza promotions to celebrate its birthday month. The classic Margherita pizzas will be priced at $11 plus Farina's 11th birthday weekend (August 18-21) and the fan-favorite Pistacchio pizza will make a special appearance on the menu August 18-September 5.
Nancy Go Yaya one day "Last call" pop-up
Singaporean restaurant Nancy Go Yaya broke some hearts in June when it announced its permanent closure. Now, for one day only – Sunday, August 21 – fans can experience their famous kaya toast and laksa-marinated chicken wings for one last time in a special pop-up. Beverage extras (Iced Milo and Teh Tarik) are also on the menu ahead of time to complete your perfect Sunday picnic. Limited pre-order tickets are available through Resy.