Since opening on Tras Street in 2021, Revolver has caused some ripples with its signature flame plates that have kept many coming back. Rumor has it that if you're looking for authentic Indian flavors and an international culinary influence, this modern grill is where you need to be if you haven't already.
Our visit on a weekday afternoon was greeted by a roaring crowd that almost made us think we were there for some Sunday brunch. Of course, we sat right in front of the vibrant open kitchen where the epic grills and tandoor are – a literally warm welcome. This is also where Chief Saurabh's scene takes place with a spellbinding backdrop of embers and flames as he plays with fire.
The fifth edition of the eight-course Experience menu ($199++) starts with a whole stuffed zucchini filled with tempered zucchini and cheddar cheese. Grilled fiercely on the custom wood-fired grill, the stalks are brushed with a tangy tomato pickle chutney before being plated.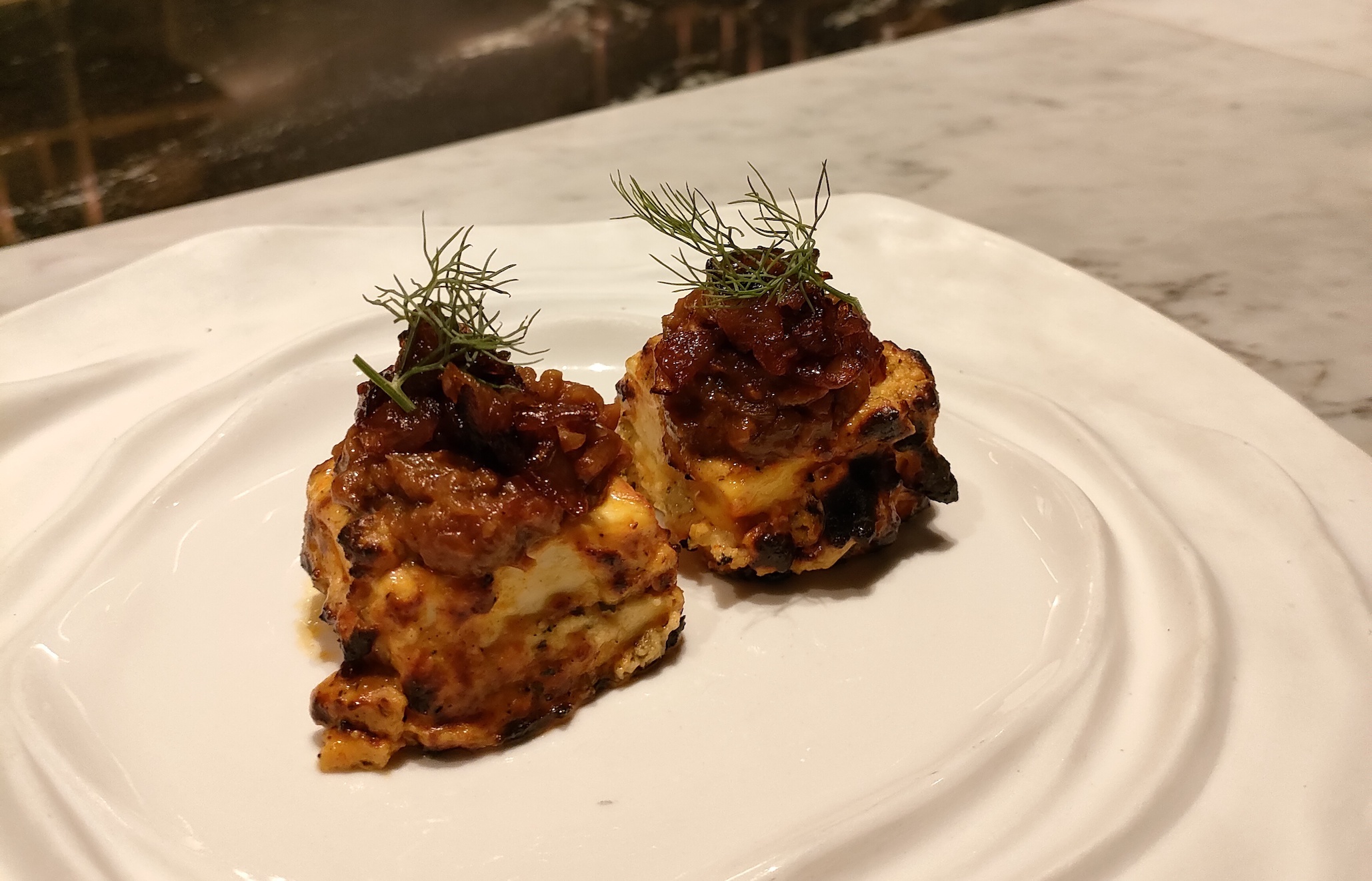 We're no stranger to the crowd-favorite fresh paneer that's now synonymous with the Revolver namesake. Freshly flown in from Delhi every week, the crown jewel ingredient is simple yet oh so satisfying. This edition sees the chewy morsel marinated with cashews and onions before being cooked in the tandoor and served with traditional spiced caramelized onions.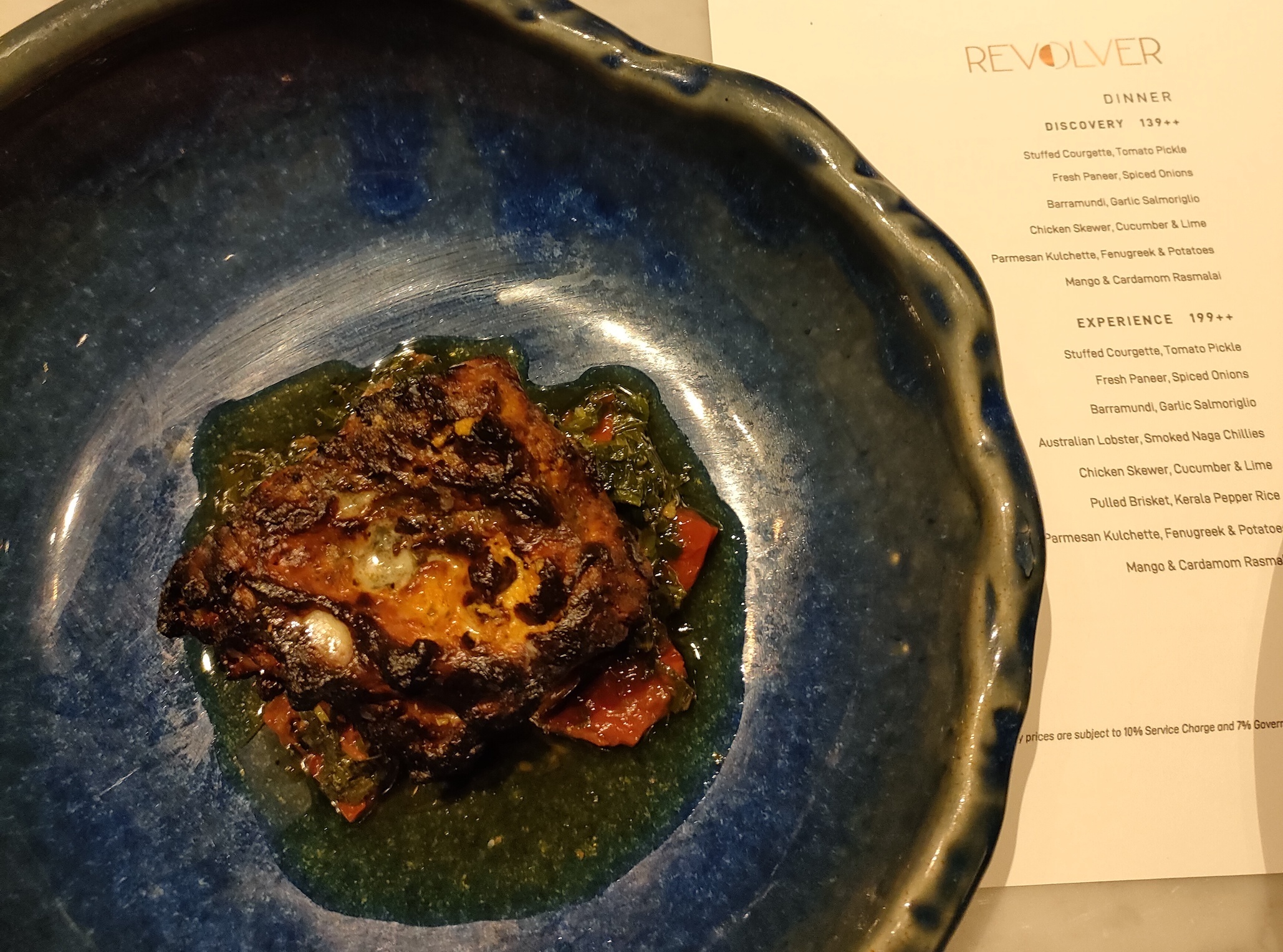 At this point, emerging from the tandoor were a few skewers. With his bare hands, the chef grabs a piece of this hot protein and inspects it as if the protein came out of a refrigerator. We sat in awe as we could only imagine it was a superhuman feat. Anyway, that charred piece of protein is actually fresh barramundi that's been marinated with cumin and yogurt. Perched on a bed of garlicky salmoriglio, it's a smoky explosion of earthy herbal spices and succulent textures.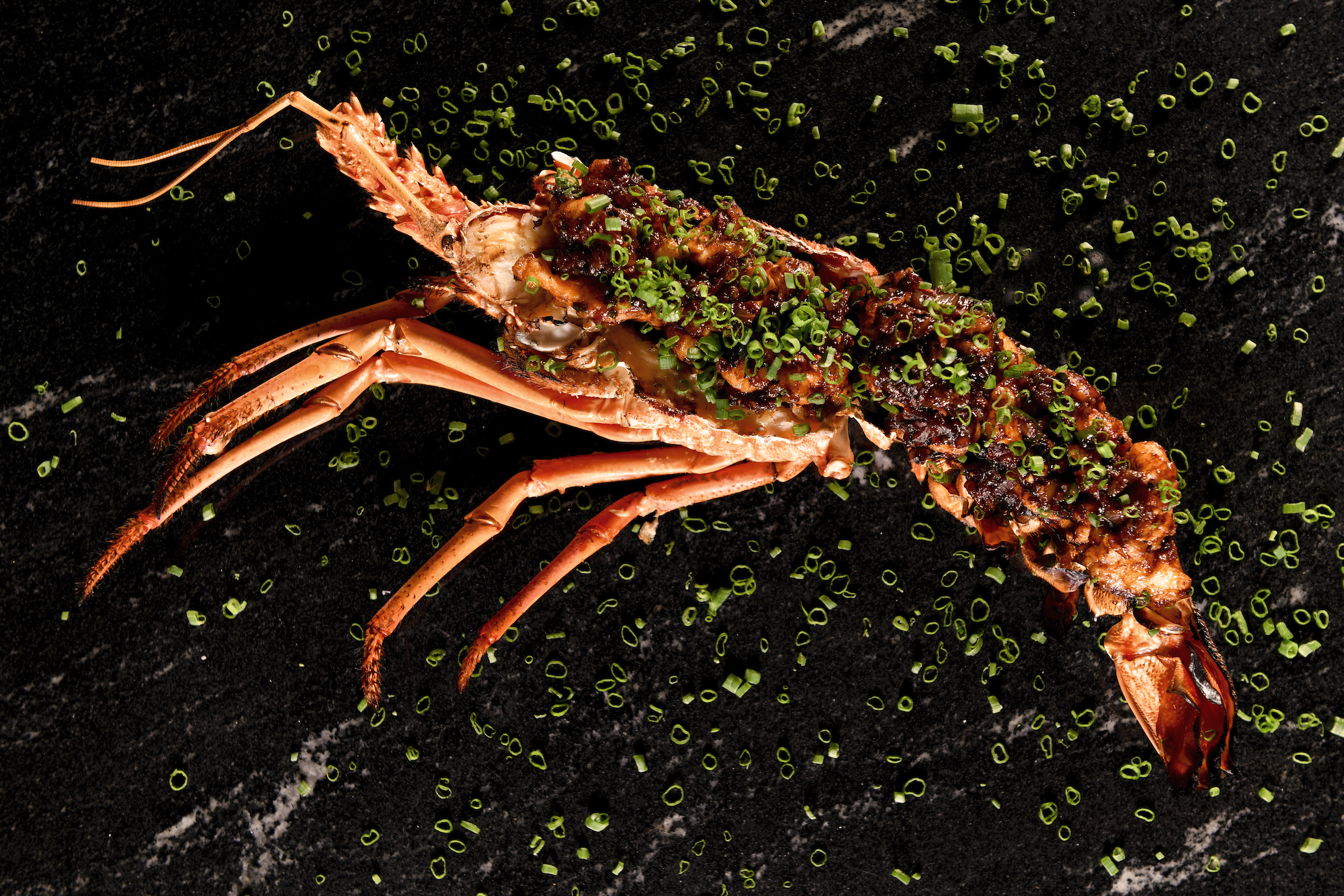 Another mainstay is fresh Australian rock lobster. This time, the tasty shellfish tangos with smoked Naga Morich peppers – originating from northeast India. Notoriously known to be in the same family as the Bhut Jolokia (ghost pepper), expect nothing less than lingering heat and spice to complement the meaty garlicky lobster.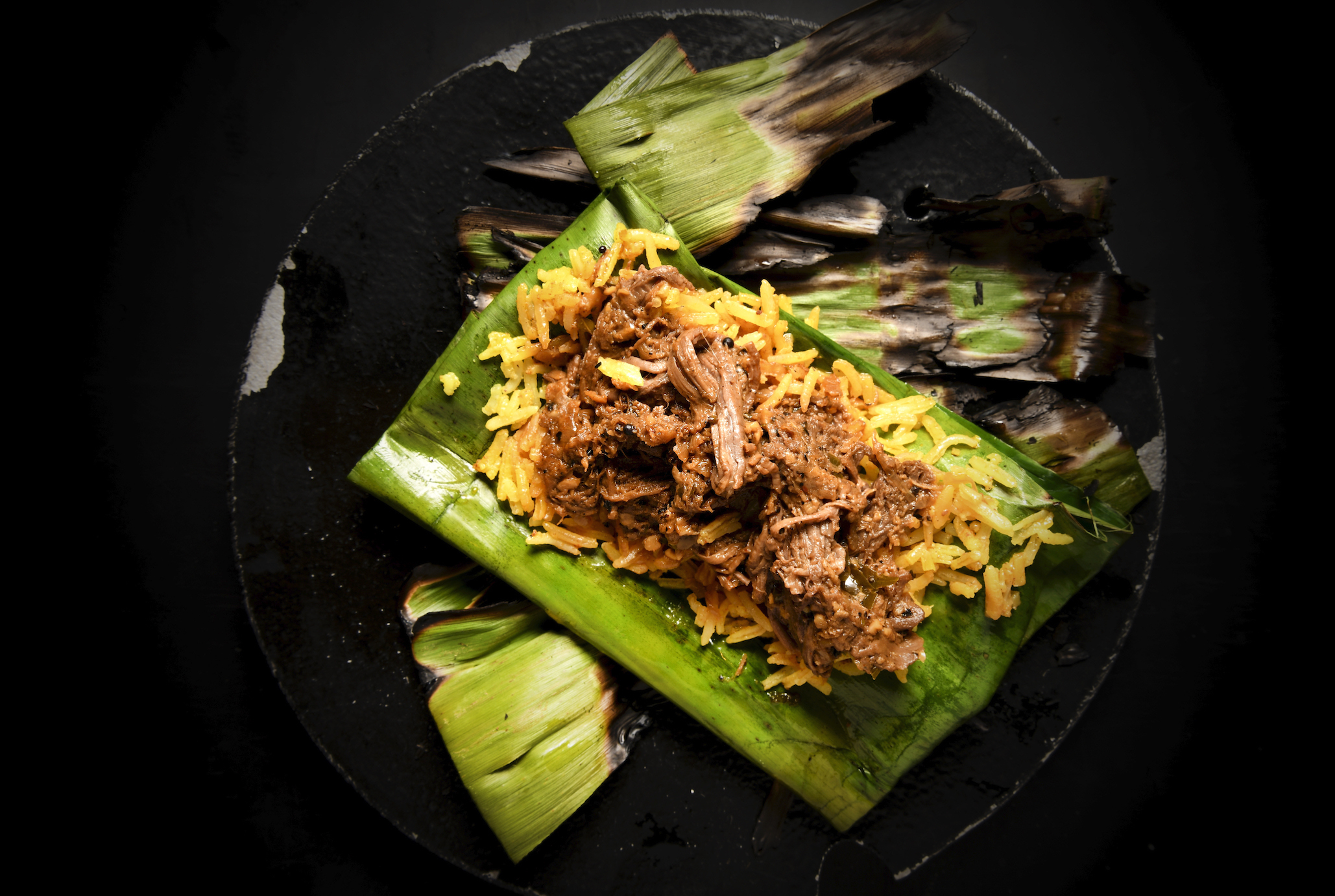 Other noteworthy mentions are the hand-pulled beef Kerala pepper rice (pictured above) and the parmesan kulchette. The first is a showcase of simmered beef brisket mixed with Irrachi masala, wrapped in banana leaf with Kerala peppercorn rice. Grilled over a wood fire, served with fresh pomegranate yoghurt. While the latter is a refreshed version of the popular Kulcha served with spice-tempered fenugreek and cubed Russet potatoes to provide an indulgent savory treat.
As every good meal comes with mind-blowing libations, Revolver isn't one to shy away from stirring up a storm behind the bar despite its extensive wine offering. The standout drink is undoubtedly Revolver's version of an El Diablo that combines mezcal, citrus, and a homemade passion fruit hellfire reduction. The result? A refreshing and bold mish-mash of smoke, sweet tropical fruit and lingering peppery spice to finish.
Book here.
READ MORE
We enjoyed an omakase meal at the most anticipated sushi-ya of 2022, Taiga Dining
Restaurant Gaig's refreshed menu brings vibrant Catalan cuisine to life
The Last Supper at the Mandala Club promises an epic culinary ordeal