The new menu for a date
As summer turns into fall, tomatoes, plums and pears create a superb fruity feast. Show your loved one what they mean to you with this treat.
Start with a refreshing hugo gin cocktail, then move on to this NEW tomato salad with peaches, grapes, feta and oregano as a starter to get the most out of the tomatoes. Another new recipe, perfect for a date, is our confit duck legs with thin fries and plum ketchup. It is a hearty, rich but still elegant main course. You can also prepare the duck and the ketchup the day before to make it easier for you.
Then finish it all off with the master of desserts, Michel Roux Jr.'s poached pears in chocolate almond sauce. It's another marvel of preparation.
Find the recipes here:
★ Hugo gin cocktail
★ Tomatoes with peaches, grapes, feta and oregano
★ Duck leg confit and julienne fries
★ Michel Roux poached pears with almond chocolate sauce
Friendly menu between the seasons
Do you receive friends? This menu can easily be adapted to a crowd. Start with our new seasonal salad made with mozzarella, pickled plums and burnt leek salad. Please the crowds with an indulgent chicken dish. which strikes the perfect note of early fall. Imagine an upside-down chicken parmigiana: brimming with melted mozzarella, crispy on the outside, and with a sweet burst and silky texture from the tomatoes and eggplant.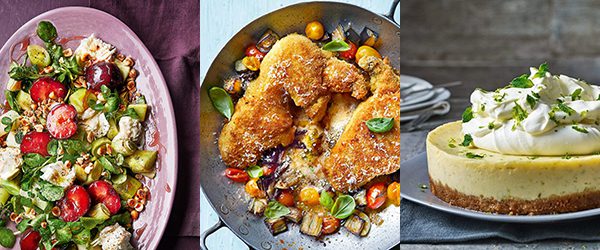 For dessert, it's a retro lime pie pud that is the perfect finish being both fresh and rich at the same time. Finally, snack on these Lebanese maamouls, a NEW recipe from Angela Zaher while sipping on a small glass of something delicious.
Find the recipes here:
★ Salad of mozzarella, prunes and burnt leeks
★ Chicken breasts stuffed with parmesan
★ Key lime pie
★ lebanese maamoul
Hang in there with the project reserve
Spend a Sunday making our September star, British Plum Umeboshi (a Japanese pickled plum made with vodka), AND our Quick Vanilla Plum Jam that's a cinch. It retains its thick texture for use in puddings. A do-it-yourself harissa is another thing to have and hold. Your future self will be very grateful to you.
All three will stay happy in the fridge or freezer for weeks and provide heaps of flavor for both sweet and savory creations throughout the colder months.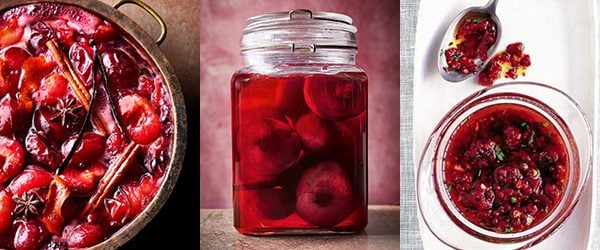 Find the recipes here:
★ British Plum Umeboshi
★ Plum and vanilla jam
★ Homemade Harissa
For more September recipe ideas, check out our seasonal recipes here.