Betty Bianchi, a resident of Bloomingburg, New York, said she was pleasantly surprised by the wide array of cultural offerings at the annual Moon Festival in the town of Deerpark.
"It's one of the few events here with a cultural theme, which really brings something new to the region. I know there are so many cultures here and it's a shame we don't see any more," Bianchi told The Epoch Times on Sept. 17.
Bianchi's ancestors were among the first settlers in Middletown, New York, in the mid-1700s. She loves history and enjoys learning about Chinese culture, which dates back thousands of years, she said.
The Moon Festival, also known as the Mid-Autumn Festival, is a traditional Chinese festival where families and friends gather on the day when the moon is roundest. Other Asian countries like Korea and Japan also celebrate it.
This year's Deerpark Moon Festival offers the widest variety of cultural programming, Asian cuisine, local vendors and children's activities, according to Peter Wei, executive director of New Century Film, the organization hosting the event.
At least 10,000 people came to the two-day event, according to Wei.
"For people whose families have lived here for 300 or 400 years, the Chinese are newcomers. We want to share our culture with them, so that we can understand each other, become one community and build together," Wei told The Epoch Times.
Five elected officials, Congressman Patrick Maloney, State Senses James Skoufis and Mike Martucci, State Assemblyman Karl Brabenec and State Assemblywoman Aileen Gunther sent proclamations to recognize the festival.
Mary Phillips and her daughter Julia Phillips, both of Port Jervis, New York, also appreciated the cultural elements on offer.
"We have the Fall Foliage Festival and the Christmas Spectacular, but we don't really have anything like that. I love seeing international things and different cultures," Mary Phillips told The Epoch Times.
For Jennifer Leon, resident of Honesdale, Pennsylvania, the best part of the event is the food.
About 30 food vendors scattered around the stage of the show, offering authentic Chinese food and other Asian cuisines. Leon tried pork buns, dumplings and Thai tea. Her niece, Lily Reimfurt, liked Hong Kong egg tarts the most.
Reimfurt was also fond of traditional Chinese dance on stage, which she had never seen before.
"It's really cool how much alike we are and how different we are. We're similar in that we all use dances to express ourselves, and we're just different in how we do it. Reimfurt told The Epoch Times.
Speaking of dances, Sam Kressevich, a resident of Campbell Hall, New York, preferred the costumes.
"Beautiful dresses. It's very traditional. I also saw a little girl running around in traditional outfits with her hair tied in a low bun; her address was beautiful," Sam Kressevich told The Epoch Times.
Sam Kressevich's mother, Lori Kressevich, saw a flyer about the festival in an Asian store in Middletown and brought her two daughters to the event. Lori Kressevich has always been drawn to Asian cultures, having quite a bit of Asian-style furniture in her home, she said.
"I love all the vendors and especially the traditional Asian things like tea sets and jewelry. I love all of it. I've always loved it," Lori Kressevich told The Epoch Times.
End the CCP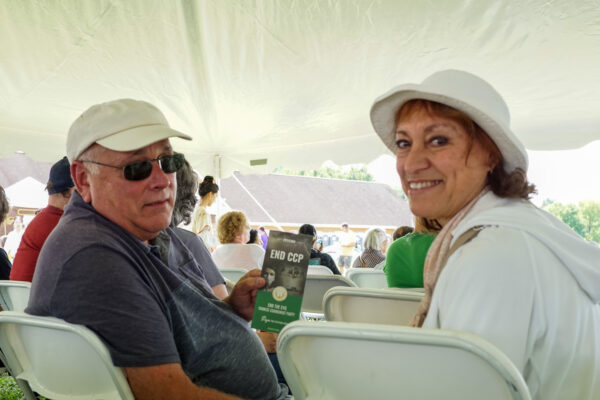 Bob and Dee Steeger, from Warwick, New York, attended the event in 2018 and decided to return.
The Steeger couple not only enjoyed the cultural performances on stage, but also heard about the Global Petition Campaign to End the Chinese Communist Party (CCP). Both signed the petition.
"I felt like the general population in China was being exploited by those in power. I don't know what can be done about it. But just like the lady told us about the petition: 'People must get up and do something," Bob Steeger told The Epoch Times.
Many Chinese immigrants in Deerpark and surrounding communities had escaped persecution by believers in Communist China. Since arriving in the United States, they have tried to educate local people about the evildoings of the Chinese Communist Party.
Shana Mann, a resident of Middletown, New York, enjoyed the Truthfulness, Compassion and Tolerance art exhibit.
The exhibition features works by internationally renowned artists who depict traditional spiritual beliefs as well as modern persecution in communist China.
"It's just shocking and melts my heart at the same time," Mann told The Epoch Times.