OSAKA – Terumasa Yamada always thought his fellow Osaka people were friendly, kind and ready to offer a helping hand before they were asked.
However, this spirit of "osekkai" (officialness) has not necessarily been extended to foreign visitors.
Yamada, 39, said many of his acquaintances who run shops and businesses don't have the courage to talk to non-Japanese people because they don't speak English.
This trend was why Yamada and other volunteers established Osaka Osekkai Lab in 2015. Its main activity is to increase the number of Osakans who can speak and help foreign travelers in need.
Yamada is now the group's second-generation manager.
Osaka Osekkai Lab has held various events where attendees can learn simple English phrases in a fun way and feel confident speaking the language.
It also organizes workshops for participants to improve their osekkai skills.
In a workshop, Osak residents can learn to communicate with foreigners with just three English sentences. Another workshop offers advice on how to approach foreign visitors in need of assistance at train stations and other locations.
A particularly popular way to learn the language and Osekkai is to play "Okini! Osaka Osekkai Game.
The "sugoroku" board game is themed around railway lines running through the Kansai region, with each station represented by squares.
Players roll a die to move from station to station to reach the Namba Station objective. They are required to speak English to introduce area must-sees or explain how to hop between lines as they stop at each station.
Participants say they can learn simple English words like "change" and "go" and figure out how to use gestures in a fun way.
After playing the game, Yamada takes the contestants to the streets to test their skills.
They have to approach foreign tourists who seem to need help and give explanations in English and physical gestures.
Many of them gain confidence after seeing that they can communicate with foreign tourists.
Yamada is proud to have grown up in the osekkai culture.
He was an only child and his parents were busy with their work, but he never felt alone because other people cared about him.
He remembers that his grandmother, who still lives under the same roof, often walked around the neighborhood and asked people, "What is it? »
In Japanese, the phrase is friendly but not too intrusive.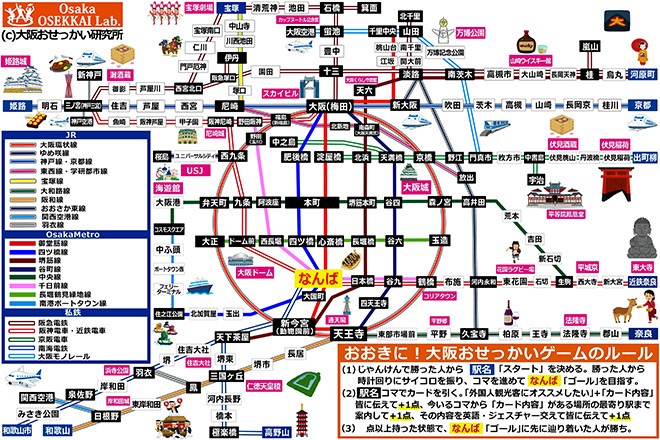 Seeing how the neighbors would open up to his grandmother, Yamada learned that osekkai was a form of compassion towards others.
Learning from his example, he found it natural to ask the same phrase of people he met who seemed to need help.
Lately, however, Yamada feels that many people with language difficulties find it awkward to talk to others, even when they clearly need help.
He encourages them to say, "What is it? and believes that a smile and compassion are enough to overcome the language barrier.
Things were going well until the novel coronavirus pandemic hit in 2020, and foreign tourists couldn't enter Japan.
After Japan finally lifted its entry ban this year, the group revamped its official website to resume its booming business.
He also plans to hold an event in September.
"When I looked up the word 'osekkai' in a dictionary, I found it had a negative meaning of 'being intrusive and offering unwanted help,'" Yamada said. "I want to promote Osaka's osekkai culture to the world so that the dictionary definition will be rewritten in a positive way."