Greensboro's newest Nepalese / Tibetan restaurant, hidden in Fountain Square at the far end of the mall at 1600 Black of Highlands Boulevard, is known for serving one of the tastiest pork dishes in an Asian restaurant. of the Triad.
Himalayan Garden Grilled Wild Boar Spiced Belly Meat tastes unlike anything I've encountered before. Meat from wild male pigs may have a game-like quality known as 'wild boar odor', but there was none of that here. The term 'boar' usually refers to the species rather than the sex, so maybe this dish, which I ate twice, is actually made from wild belly.
The Indian boar is native not only to the subcontinent, but also to Nepal, Burma, western Thailand and Sri Lanka. Bandel, as the meat is known in Nepali, is a major protein for the Kirati, one of the indigenous ethnic groups of the Himalayas. Rich in flavor, it is leaner than domestic pork, even if it is raised on the farm (all "wild game" sold in restaurants is farmed.)
Even the wild pork belly is fatter than the rest of the pork, and the grilled wild boar from the Himalayan Garden can be cut with a fork and practically melts in your mouth. The other wild boar dish on the menu, which is marinated and boiled in garlic, pepper, and chili peppers, might require a knife if it weren't chopped and grated. On my first visit, my two companions and I (one of whom was a vegetarian until the bacon draws him to the dark side), agreed that the shredded marinated wild boar was quite good, but the grilled variety was superb.
Vegetarians and those who don't eat pork need not fear. Himalayan Garden offers plenty of vegetarian and vegan options, as well as dishes based on halal chicken or goat, fish or shrimp and cheese. The freshly baked nan, or Indian flatbread, is also some of the best I've had in the triad, especially with the house mint sauce.
My friend Tim, who accompanied me on my second visit, is fine with the pork, but ordered the $ 9.99 Chicken Thali Lunch, which also turned out to be delicious. Both of our meals came with nan (which he said was excellent), but where mine came with a generous portion of potatoes and broccoli, his was served with a bowl of what looked like almond chips, but that turned out to be threshed rice (called "bitten rice" on the menu).
Also known as flattened or pressed rice, it is a very popular side dish and street food in Nepal, Bangladesh and India where the husked rice grains are parboiled, then dried, flattened with rolls and fried in a clay pot.
Our extremely friendly hostess Sahara was happy to explain the process. Sahara said that although its name has the same English spelling as the Arabic word for desert, in Nepalese it means help or support. "When my parents get old, I will be theirs Sahara. I was born and raised in Nepal until I came here ten years ago.
Sahara said the "bitten" rice was both gluten-free and vegan.
"It is really good when you eat at festivals or at a big party because it is used to absorb fat from meat."
I asked him if it was okay to do what we were doing, which was sprinkle it on my boar and Tim's chicken. "Yes, mix it up and eat it however you like, it's entirely your choice," she said with a smile. "You can also add yogurt and fruit to it and eat it for breakfast like oatmeal. There is another called stuffed rice, where the rice is not pounded but is puffed up like popcorn.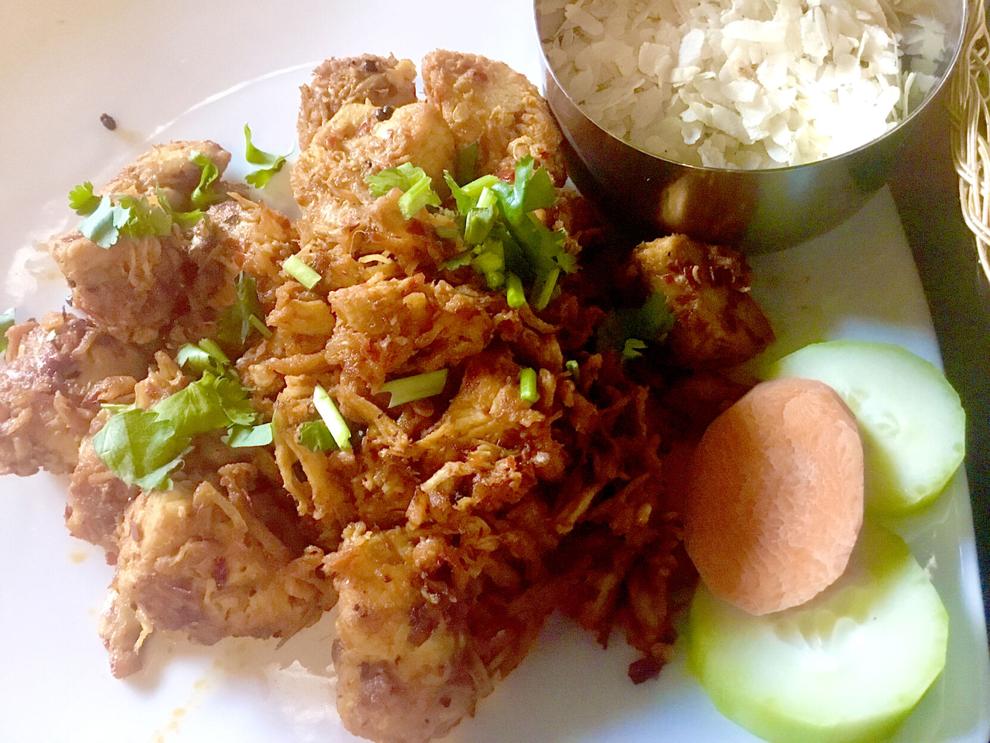 I had enjoyed this on my previous visit, when it was accompanied by my friends' chicken curry and marinated wild boar, and found it addicting and very easy to imagine eating it by handful at a festival. of street.
Sahara described Nepalese cuisine as heavily influenced by its native neighbors China and India. "But even though we use a lot of the same spices, our cooking methods tend to be very different. Our curries tend to be different from Indian just like our dumplings tend to be different from Chinese. the thali the course is one of our traditional meals. It is accompanied by curries of chicken, mutton, pork or goat, or a combination of chicken and goat, as well as a lentil soup, a vegetable curry, spinach with garlic and a serving. of white rice.
She also pointed out that chicken, goat and mutton are halal, "which is a good point for Muslims."
Aperitifs include pakoda, a mixture of fried vegetables or cheese in a tangy tomato sauce; sadheko, a classic street food made with peanuts or crunchy noodles mixed with chopped tomato, onions and Nepalese spices; its variant sukudo sadheko, which adds marinated dried goat meat to these vegetables; fried tiger prawns with honey-ginger sauce; and pangra.
On my first visit, my friend Kelly ordered the latter, which turned out to be subtly spiced chicken gizzards, enough for a hearty meal. Kelly is an organ meat fan and wants to come back for the entrance of the grilled intestines.
Despite my carnivorous nature, I was more intrigued by two dishes of paneer (cheese); one of fried breaded curd with tomato and mint sauces, the other of grilled marinated curd with green pepper and onion. There is so much more that I want to try.
The menu includes many curries, a dozen vegetarian varieties and 13 with meat. Vegetarian options are lentils, black-eyed peas, potatoes, bamboo shoots, cauliflower, okra, mushrooms, and coconut. Meats include chicken, mutton, fish, shrimp, pork, and goat.
There are seven varieties of mo mo, the Nepalese and Tibetan variant of Chinese bao and Japanese gyoza. Handcrafted from scratch, these steamed and deep fried meatballs are filled with chicken or veg and are served with a homemade chutney and spicy chili sauce. There are also a variety of tandoori items and kebabs.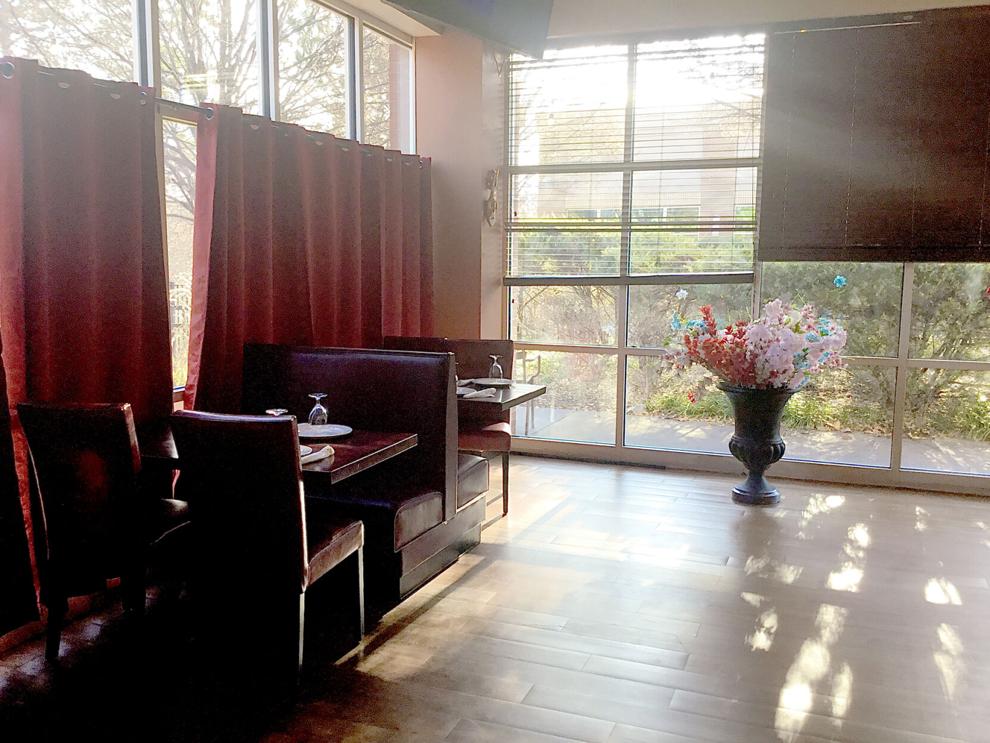 Due to the size of the shopping complex behind the Red Robin on New Garden Road in Greensboro, Himalayan Garden can be a bit difficult to find because you can't park in front of it. It sits at the back of the pedestrianized fountain plaza, near the bed, the bath, and the afterlife. The actual address is 1614-B Highwoods Blvd, but the only signage is a small wall banner. However, it has a patio facing the sloping hill, and the relative seclusion seems to allow for pleasant meals outside in warmer weather.