The worst review former food critic André Darlington could imagine for any of his books boils down to style rather than substance.
"My big fear is always that the first Amazon review will be like, 'Nice book, I couldn't do anything,'" Darlington said. "It's a crush for me."
Darlington's latest book, "Bar Menu", is now available from Running Press. This is her sixth book, her first that is primarily a cookbook (as opposed to a cocktail book). Alongside classic and contemporary cocktail recipes, there's semolina cake with liquor syrup, cocktail ramen eggs, Vietnamese chicken wings and potted shrimp.
The book contains more than 100 recipes and is designed to be "very generous to the reader," Darlington said. "If you're going to get off the couch to make this recipe, I want to make sure it teaches you something pretty interesting."
Raised in Iowa, Darlington freelanced for Isthmus as a food and drink writer for four and a half years between 2011 and 2016. His sister, Tenaya Darlington, had served as an editor there. The siblings have worked on several books together, including "The New Cocktail Hour" (2016), "TCM's Movie Night Menus" (2016) and "Booze & Vinyl" (2018), all from Running Press.
Darlington lived in Madison for 15 years and in 2016 opened the Field Table restaurant downtown with Patricia Davis. (This the location now houses the SASS.) He moved to Philadelphia and in 2019 he traveled the world to research his book, "Booze Cruise" (2021). A Batman-themed book, "Gotham City Cocktails" also came out last year from Insight Editions, followed by "John Wayne: The Official Cocktail Book" last week.
Now based in Greensboro, North Carolina, Darlington is currently on a 14-city tour for the book, with a scheduled stop at Heritage Tavern in Madison on Sunday, November 20 at 1 p.m. J. Henry Bourbon will be on hand, as copies of the "Bar Menu" will be available for purchase ($28 or $26.04 at bookstore.org).
Reached by phone during a layover in Dallas, Darlington shared his perspective on the contemporary cocktail, how to pair cocktails with food, and why Madison was the perfect training ground for his culinary life.
You started doing more solo projects. How was this book born?
I spent a lot of time trying to come up with a cookbook. It had started to take shape as early as 2016, and I had it in mind when I wrote "The New Cocktail Hour".
When I wrote this book, I was thinking, "Damn, everything changed with this new craft cocktail thing – everything is so delicious. But there has also been a huge shift in cocktail cuisine.
When I went around the world for "Booze Cruise" in 2019, I saw all these different bar foods. It gelled, that we were in a brave new world for cocktails.
I snuck into my base in the United States just as everything was closing. This book took two years or more to make, and I basically tested the whole thing during the pandemic.
You wrote this book when people weren't really making cocktails. How did you organize it, given that?
I think there's the sense here that a cocktail really can be any size. I mean, preferably two, at least?
I come from writing about wine, and on my shelf are all these books that pair food with wine. There really isn't anything off the shelf on how to pair cocktails, even though we're 10, 15, 20 years into the craft cocktail movement.
I also have a whole shelf of appetizer books, but the food is either bland or makes you feel like you have to do 20 different things. There's this pressure in books from the 70s or even the 90s, like, "Oh man, I gotta buy all these bottles and make all these canapes."
Coming out of the pandemic, people are preparing very good cocktails. But then, are you supposed to pull out an old-fashioned cocktail book and pair stuff? It's not quite right. If you see anything Mexican, it's "Mexican-inspired" and it's like a dip. We've gone so far in cookbooks – it's no longer Japanese-inspired or Mexican-inspired food, it's an Oaxacan cookbook.
I wanted to give cocktail cooking a book that was updated, and also simplified in a way. I say in the book, it's OK to only serve one thing if it's cool. If you have your friends over and want to make dumplings, you don't need to put extra caviar and crackers.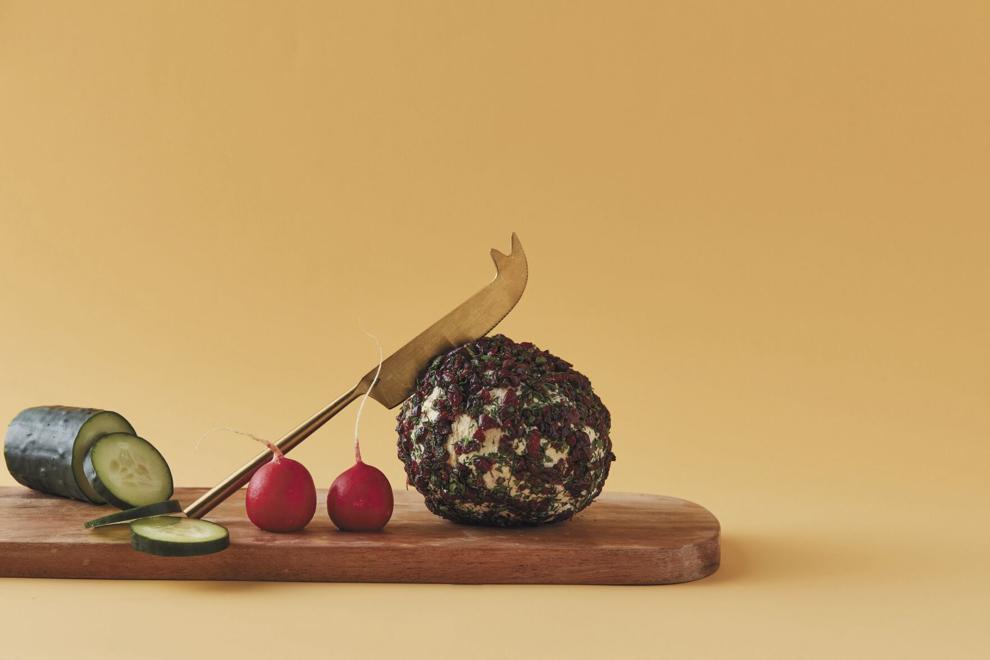 I currently have the book open to the "make your own tortillas" page, where you ask for blue corn dough. How did you work with less common ingredients like carob syrup, piri-piri sauce and piparra peppers?
I don't know if I could have done this book 10 years ago. Even ethnic grocery stores are in every city now, there is a Middle Eastern store or a Vietnamese store. So it's expanded, but you can also get everything online now.
I really wanted to make sure, to bring it up to the level of something you're going to buy – carob syrup is a good example. It can be a good staple, and I hope it gets people started. I started using it in this application (with fried halloumi cheese) then I started using it with dates on ice, in barbecue sauce.
I wanted everyone not to buy a lot of crazy ingredients. Some of the things are a bit over the top, but I only do that if it's like "Hey, this is an amazing cocktail that people should know about." Carob rises to this.
Last night we made the recipe for Ward 8 (rye, lemon, orange, grenadine) and paired it with a shrimp cocktail. Your deal is the cheese – but it worked! It doesn't sound like you want to get too intense about these couples, does it?
You are absolutely right. We went through this obsession with the food-wine pairing and it became quite dogmatic. Like, "Oh, I'm having chardonnay" or "I'm having pinot," so it has to be salmon or mushrooms. I didn't want to do that with cocktails because I feel like it's a little freer in general.
But I also wanted to inspire people to make drinks they've never made before. There are a few specific stops, like the Vesper and Pot Shrimp. It's a pairing that every cocktail lover should know…it's going to be life-changing in some way, it's pretty awesome. But I always try to introduce new things.
It's sort of an attempt to make a cocktail Bible. Nobody needs my Manhattan recipe, they can find it. But at the same time, I didn't want them to have to search for another whole cocktail book. So I put some of my personal favorites in there.
How did your work at Madison inspire this book?
Much of the success I've had in these books (comes from) my training in Madison, Wisconsin. In the world of cocktails, there is pound after pound of top bartenders in New York City. And you buy their book, and it's super insider and hipster and no one can get any of the ingredients anyway, so you only sell to other bartenders in those markets.
That's not my tactic at all. I wrote for the people. Madison trains you for a large audience. It's like high end/all of America. People shop at Whole Foods but people also shop at Woodman's.
What's next for you?
I had a crazy few years. "John Wayne" just released we finish it "Big Lebowski" cocktail book for next spring. It's the 25the birthday, so this is another really fun, super happy, super hilarious project. I hadn't watched this movie for years. The book ends well, illustrated by a woman in Amsterdam. It's funny and original.
Next, "Booze & Vinyl Holiday" will be released next fall. I didn't want to make a "three" following ("Alcohol and Vinyl Vol. 2") necessarily. So we figured out, what if we did all the holiday music? It's about half the size of other "Booze & Vinyls". It was really appealing to me, because it's my chance to do a holiday cocktail book, but there's also all the music.