[ad_1]
Claw & Hammer, 30-33 Minories, London EC3N 1DD (020 7702 1605). Small plates £7.50 to £14, mains and cauldrons £16.50 to £29, desserts £5.50, wines from £22
Don't go to Claw & Hammer on a date. Or to be more exact, don't go to Claw & Hammer on a first date. Go on a seventh or eighth date, once the deed is done, and you've already seen yourself being as messy and human as possible. Then this restaurant in the east of the city of London, specializing in seafood from the south of the United States, will be exactly what you need.
Because it really is a convenient place, up to the armpits. The food is so gloriously prone to chaos and disorder that the main events not only come with crab crackers and crabmeat pickaxes, but also blue latex gloves. "Although I wouldn't bother with the gloves," said our cheery, cheerleader server. I told him that I had no intention of doing so. I would come to dinner, not for an internal exam. Wet wipes would do me fine. I noticed that those at the other tables who had put on gloves could still scroll their phones. They were probably on Instagram, which is very important in a place like this. Just look at the size of those king prawns, and so on. However, it gave them the impression that they were looking for a differential diagnosis, while delving deeper into the action of seafood.
Claw & Hammer shouldn't work. Seafood boils tend to derive much of their impact from context. You want knotty wooden picnic tables covered in newspaper or at the very least covered in paper designed to look like newspaper, perhaps filled with fake stories referencing someone called Bubba or Fat Al. You want 100% humidity and slightly shiny forearms with sweat, and permission to get properly stuck in them. rest of the day, as if it were a particularly dark cologne designed specifically for the belly-obsessed. Who needs Givenchy Pour Homme Blue Label, when you can stroll around smelling like a bowl of spicy bouillabaisse?
Claw & Hammer's interior has lots of raw wood paneling, as well as bare brick walls covered in metal grilles. It's designed to convince you that you're in an authentically tough, pseudo-industrial place where no one needs to stand or sit for ceremony. Naturally, the industrial workings of the ceiling are exposed. Look at the conduits on there. In truth, of course, this is just another restaurant on a less than charming shopping street near Aldgate.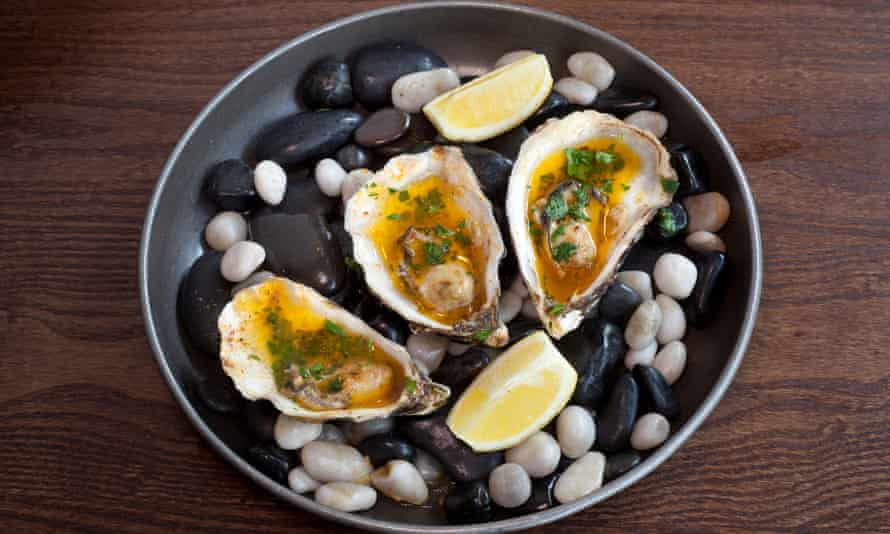 Until last year it housed a branch of Randy's Wing Bar, which did what its name suggests. The folks behind Randy's decided that the future of this outpost of their mini-empire didn't lie in wings, but in legs and claws. Put all that background together and you could be forgiven for assuming this is some dark, ersatz exercise in separating bored restaurateurs from their money. It's not. The food is excellent. Thought and care went into the tight menu. Whoever invented the dishes knows how to eat and seems to have mastered the culinary vernacular of the southern United States.
There are oysters to start, both naked and dressed, perhaps with a smoked jalapeño salsa and a lime spritz, or their own buffalo sauce and diced marinated celery. We have three grilled under a powerful broth of butter, flavored enthusiastically with Worcestershire sauce, smoked paprika, cayenne, lemon and tarragon. Cooking oysters like this only makes them more explosive themselves: sweeter, meatier, saltier and deeply reminiscent of the sea they once called home. Alongside these we have some large king prawns, split and grilled to perfection with what they call "snail butter". Since it would work just as well with snails as it does here, the title is apt. There's garlic in there, and parsley and garlic and Pernod and garlic and a little lemon. And a little garlic. Hence the instruction to come here on your eighth date. You need to have dinner with someone you can blow on later without embarrassment.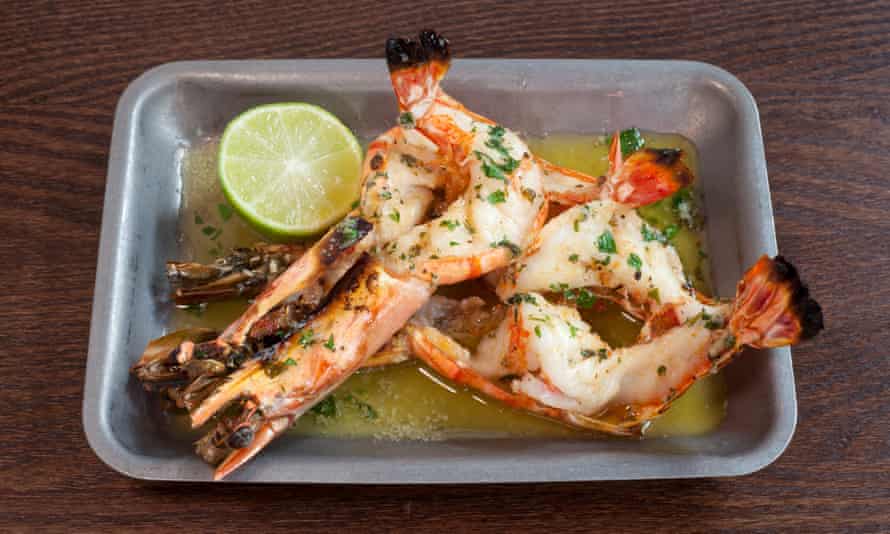 At the heart of the menu are their hotpots: boisterous Cajun-spiced broths, lightly thickened with the noble wonder that is Louisiana roux, that graceful interplay of fat and flour cooked together that underpins so much of this type of food. . The rust-colored broth is made with chunks of corn on the cob, red potato, and smoked sausage, topped with the seafood of your choice. There are mussels and shrimp in New Orleans; crab claws and shrimp in Alabama; and snow crab, clams and mussels for Louisiana. A single portion of New Orleans is £21 or you can share for £35. The pricing works upwards from there. I have no idea what these regional titles have to do with content. Maybe they just wanted to prove they knew the names of certain places in America. There's also a vegetarian version called the Mississippi, filled with butternut squash, grilled asparagus, and okra, presumably aimed at non-meat eaters who really enjoy hanging out with their pescatarian friends. What matters here is that these are huge edible Fisher-Price activity centers for adults. You're never alone with any of these hotpots: ooh, I can suck this bit; ah, I can peel this piece; God, I can snoop in there for the sweetest white crab meat.
We have a side of their cornbread, which is ordered only as a vehicle for a pot of their melted lobster butter. It is a concentrate of lobster essence dissolved in hot butter, a beautiful union that deserves to be blessed and celebrated. We wanted a side of the steamed green beans, but they ran out. So there's nothing green on the menu tonight? Our server shrugged. He suggested we have the vegetable tempura. Fried broccoli? We decide to get our vitamins from potatoes and corn. Reader, we have lived.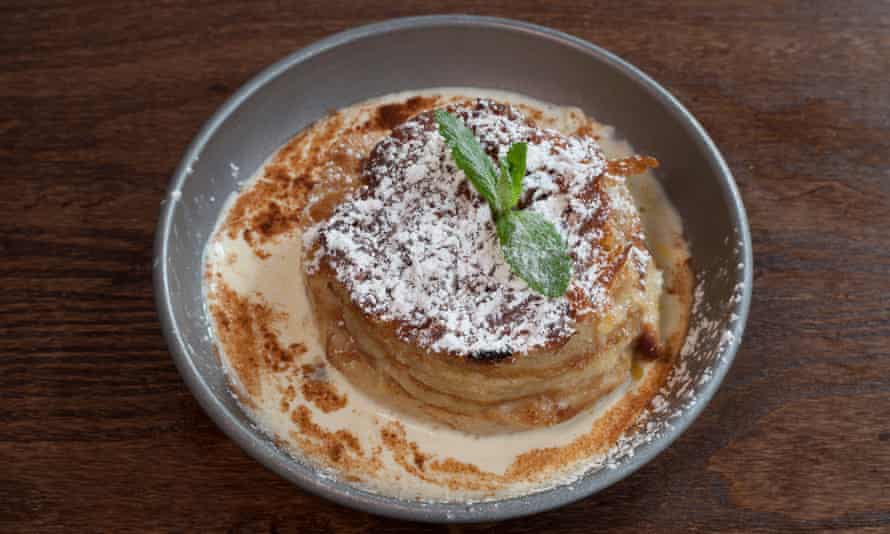 At the end there was a sticky caramel pudding with bourbon caramel. The New Orleans bread pudding of crispy layers of sweet croissants was more than convenient. It was an airy, soft and crumbly wonder, and a bargain at £5.50. I made it clear that visiting Claw & Hammer was a punt on my part. I loved how the menu read online, but I didn't expect this place, this place, with this track record to deliver. I'm glad to say I was wrong.
News
It's been a while to come, but finally it's happening: Cardiff's cult Japanese food store Matsudai Ramen, which has made a name for itself with wildly popular meal kits delivered nationwide during the pandemic, finally acquired a permanent site. Self-proclaimed ramen fan James Chant will open Matsudai Ramen at The Bank in a former NatWest branch on the edge of Cardiff city center in early summer. Alongside its range of ramen, there will be an array of other dishes including its karaage chicken and karaage mushrooms. The space will also house Lufkin Coffee roasters, which already use the property. AT matsudai.co.uk.
Bundobust, the hugely popular craft beer and Indian street food group that started in Leeds in 2014, continues to expand across the north of England. After adding sites first in Manchester and then in Liverpool, he applied for planning permission for a site in York's former Argos building on Piccadilly Street. To visit bundobust.com.
JKS Restaurants, the company behind Gymkhana, Bao and Berenjak among others, has announced an impressive range for the new Arcade Food Hall at the bottom of London's Center Point building. It includes Saborcito, a brother of chef Nieves Barragan's Sabor, a shawarma kitchen called Shatta and Toum, an Arcade Provisions sandwich shop, created by Margot and Hector Henderson of Rochelle Canteen, and Plaza Khao Gaeng, a restaurant in southern Thailand. To see arcadefoodhall.com.
Email Jay at [email protected] or follow him on Twitter @jayrayner1

[ad_2]
Source link