We've seen a LOT of new food and treats at the Disney parks lately.
With new Halloween snacks, 50th anniversary deals, and just general updates, you can eat a lot differently than you did on your last trip to Disney World or Disneyland Resort. And now Disney has announced even MORE new menu items!
Walt Disney World
Gasparilla Island Grill at Disney's Grand Floridian Resort
New items are on the menu at this quick-service restaurant, starting with breakfast. For a lighter, healthier option, try the Acai Bowl with homemade acai sorbet, strawberries, bananas, blueberries, granola and agave or the Egg White Breakfast Wrap with egg whites. eggs, spinach, roasted tomatoes and feta cheese served on a flour tortilla.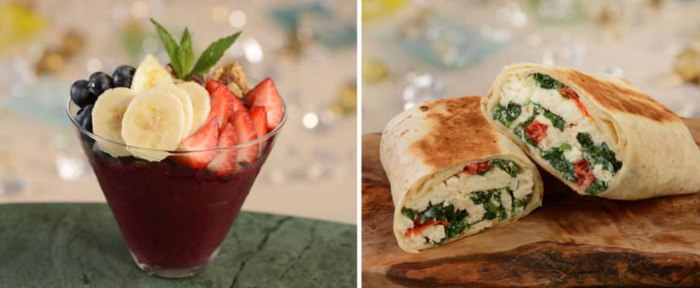 For lunch and dinner, there's a new Italian sandwich with ham, salami, capicola, provolone, lettuce, tomato, onion, banana peppers, Italian dressing and the olive aioli served on a sub-roll, as well as a Caprese sandwich with red, yellow, and fire-roasted tomatoes, fresh mozzarella, arugula, lettuce, basil, sherry dressing, basil aioli and balsamic reduction served on roasted tomato focaccia. The new Cuban sandwich features mojo roast pork, ham, swiss, pickles and mustard served on Cuban bread, while the blackened chicken sandwich features blackened chicken, pepper jack and coleslaw served on a brioche bun.
Besides the sandwiches, be sure to try the Broccoli and Roasted Tomato Flatbread. It features roasted garlic, mozzarella, broccoli, fire-roasted tomatoes, and ricotta served on a homemade pasta.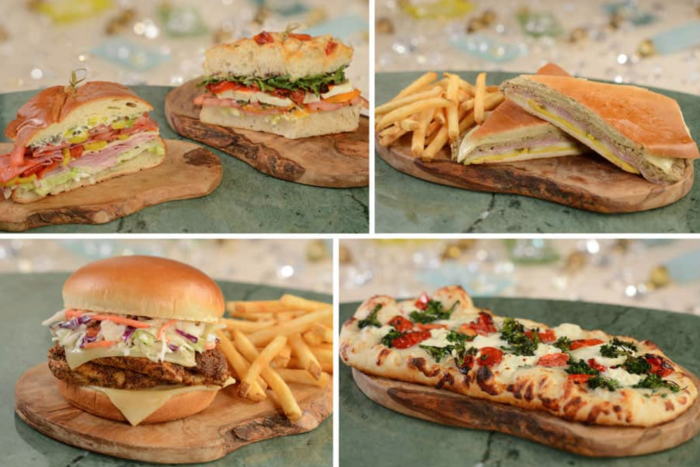 Then, at dinnertime, you can order the Mojo Chicken Bowl, which consists of mojo chicken, jasmine rice, sweet potato, cilantro and scallion aioli, and black bean salad and of tomatoes. For a plant-based version, they have the Mojo Seitan Bowl with mojo seitan, jasmine rice, sweet potato, cilantro and scallion aioli, and black bean and tomato salad.
Backstretch Pool Bar at Disney's Saratoga Springs Resort
If you're planning on dining by the pool, check out what's new at the Backstretch Pool Bar starting September 16. The New York-style hot dog is an all-beef hot dog covered in New York-style onions. Or you can try the Buffalo Chicken Nachos, made with shredded chicken in buffalo sauce with creamy blue cheese queso and celery served with Saratoga house fries.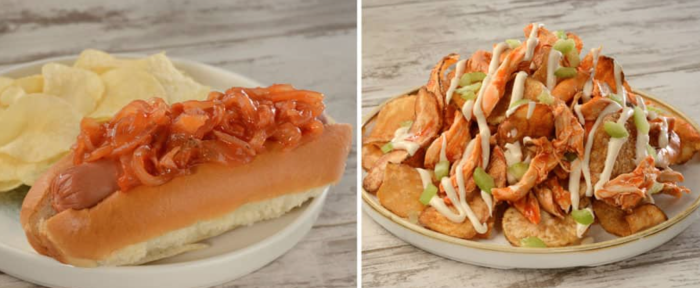 Sunny Seasons at EPCOT
Moving on to theme parks, Sunshine Seasons also has some new additions. For breakfast, try the ham, egg and cheese breakfast sandwich on a kaiser bun. It is served with fresh fruit, overnight oats or Greek yogurt.
During lunch there are new starters. The first is roast beef with chilled roast beef, chimichurri aioli, cheddar cheese, arugula and red onion on a flour-topped kaiser bun (served with potato chips). The Mediterranean vegetable sandwich comes with roasted red peppers, red onions, tomatoes, arugula, hummus and balsamic vinaigrette over herb focaccia. It is plant-based and also served with potato chips. Finally, they have new Fish Tacos, only available before 4 p.m. They are served with plantain chips and made with grilled corn salsa, creamy jalapeño-Piri Piri sauce and radishes.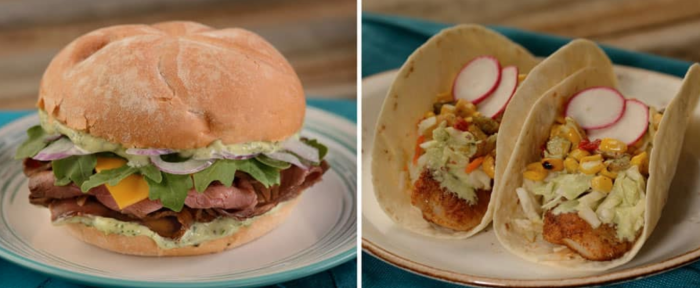 Table Service Restaurants at Magic Kingdom Park
Around Magic Kingdom, new drinks are coming to restaurants with table service for over 21s. Jungle Navigation Co.Ltd. Skipper Canteen is getting two new drinks, the Jungle Bird Cocktail (Gosling Black Rum, Campari, cane and pineapple syrup and lime juice) and the Golden Haze Margarita (Teremana Blanco Tequila, Grand Marnier, agave syrup, lemon juice green and smoked chilli bitters).
At Liberty Tree Tavern and Diamond Horseshoe, you have the Gold Rush (Elijah Craig Bourbon, lemon juice and honey topped with crystallized ginger) as well as the Magical Beacon Cocktail created for the 50th anniversary (Empress 1908 Gin, Bols Blue Curaçao, Minute Maid Premium Lemonade, almond orgeat, lemon, hibiscus grenadine and souvenir light cube).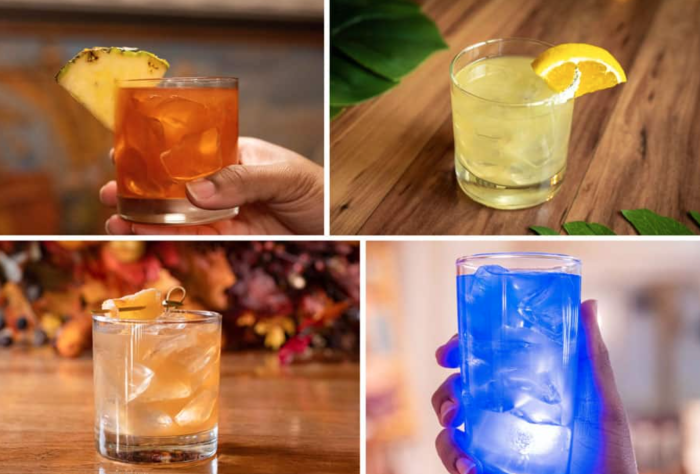 Disneyland Park
Troubadour Tavern at Disneyland Park
A fan favorite item goes to Troubadour Tavern, the Bacon and Sour Cream Stuffed Baked Potato! It is made with butter, sour cream, cheese, bacon bits and chives.
Pacific Wharf Cafe at California Adventure
A few seasonal items have recently arrived at this park that you should check out! The pastrami sandwich is made with ghost pepper cheese sauce and homemade sauerkraut on a toasted French bun at Pacific Wharf Cafe.
Pacific Wharf Cappuccino Cart at California Adventure
Here, the pumpkin-spiced Horchata Cold Brew got people in the spooky mood of the season. It's "a creamy cold brew blend with pumpkin spiced rice and a cinnamon drink."
Paradise Garden Grill at California Adventure
The traditional Tamale plate is another must-try. It is made of green chile chicken tamales with Spanish rice and pinto beans.
California Adventure Studio Food Truck
And if you want a little spice, stop by and grab the Ghost Pepper Potato Bites from the Studio Catering Truck. They are topped with ghost pepper cheese sauce, smoked bacon and pickled jalapeños.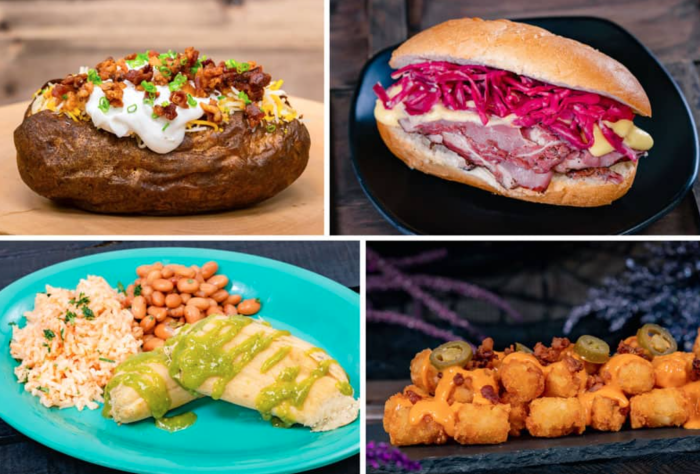 Hearthstone Lounge at Disney's Grand Californian Hotel
Hearthstone Lounge recently had a revamped menu and there are new items to try like the Achiote Shrimp & Grits with grilled shrimp over porridge grits, Oaxaca cheese, chili butter, roasted cherry tomatoes and aromatic herbs. You can also try the Steak Frites with Hickory Molasses Glazed Flat Iron, Garlic Parmesan Thin Fries, Blue Lake Beans, Demi-Glace, Compound Butter, and Watercress Salad .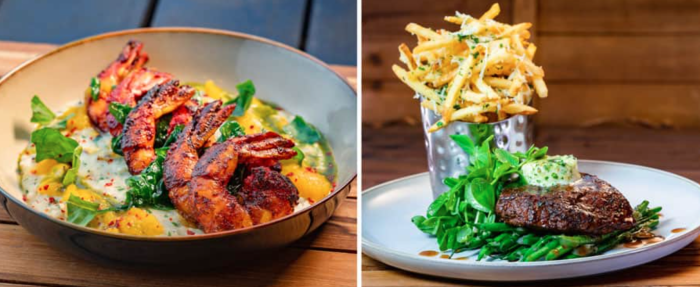 Disneyland Hotel Restaurants
At Tangaroa Terrace, thick and fluffy Japanese pancakes are topped with a tropical fruit medley of starfruit and guava syrup and served with bacon. You can also try Tonkotsu Ramen with pork-based broth, crinkle noodles, sliced ​​pork belly, fresh green onions, shiitake mushrooms, fish cake, black garlic oil, flavored boiled eggs and nori.
Trader Sam's Enchanted Tiki Bar now has a Zombie, which is made with Appleton Estate Reserve Rum, Bacardi Reserva Ocho Rum, Hamilton 151 Rum, Tropical Juices, Falernum, and Cinnamon.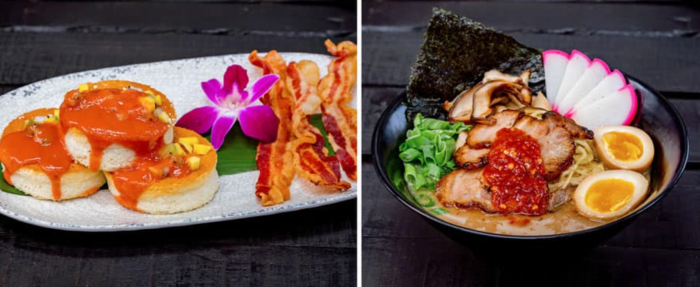 These are all new menu items at the moment, but we'll keep you posted on anything announced on both coasts. We've tried lots of treats at Oogie Boogie Bash and Mickey's Not-So-Scary Halloween Party recently, so be sure to check them out!
As always, stay tuned to AllEars for the latest menu news from theme parks, hotels, and other restaurants. We also have menus of all. Disney restaurants on our website. Check it out!
Click here for our ranking of ALL table service restaurants in Disney World!
Join the AllEars.net newsletter for a free list of the BEST new Disney World snacks in 2022! Click here to start!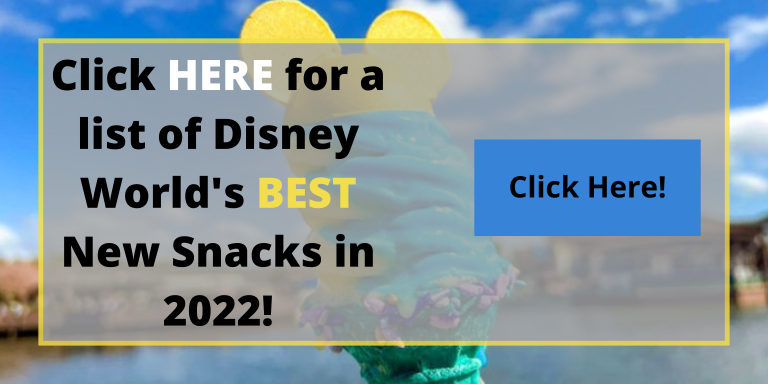 What new menu item are you most looking forward to trying? Tell us in the comments!